Everyone wants to record incredible videos in excellent quality in today's generation, even in poor lighting conditions, or confidently participate in Zoom conferences? Selfie rings have been around for a long time and are popular with Tik Tokers, especially. They are quietly useful to many. They are a great way to improve your videos' quality with optimized lighting. So you don't have to rely on the light bulb on the wall. Selfie rings are specially designed to improve your selfies and videos' quality. They can seriously affect your confidence.
Are you searching for the best selfie ring? We finally come to a seemingly high-quality product from TONOR. The TONOR 12" Selfie Ring Light with Tripod stand TRL-20, which is also supplied with a tripod holder, smartphone holder, and Bluetooth remote release is an all-in-one combination that you can use for your zoom lectures, Tik Tok videos, YouTube broadcasts, and of course, your photos.
TONOR TRL-20 selfie ring is compatible with Android and iOS systems, and you can easily control the lighting according to your needs with the remote control.
Exciting Features of TONOR TRL-20 Selfie Ring
Let's look at some of the more convenient features this 12-inch selfie ring from TONOR has.
A Dimmable Ring Light
When buying a ring light, controlling the brightness is one of the essential features to look out for. Not everyone has the same brightness in their room or recording studio. You should be able to control the ring's brightness based on the lighting in the room and other factors. The TONOR light ring has 3 different color modes: cool, warm, and natural. You can choose one of them based on your preference. You can easily control the light modes by using the USB cable's buttons.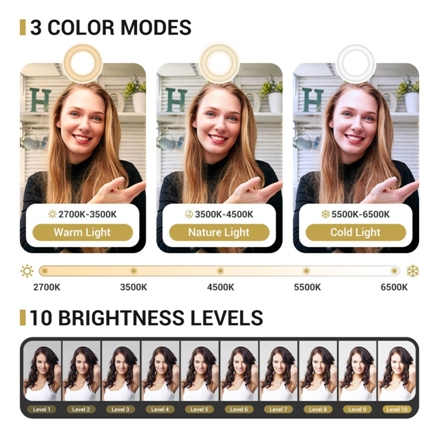 On top of the color modes that you can quickly choose from, there are 10 different brightness levels to choose from. The light's color temperature varies between 2700 K and 6500 K, making it extremely adaptable for any video type. It has a luminous flux of 500-800 lm and a color rendering index of 80-90. Whether it's a simple Tik Tok video or a vital zoom conference, you will always find this feature useful.
Easy on the Eyes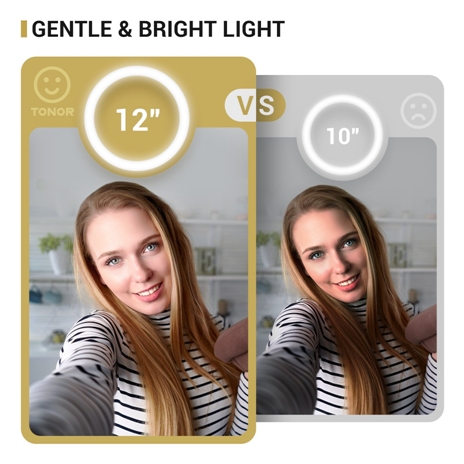 In contrast to many other products that only emit an uncomfortable light to increase the brightness, the TONOR TRL-20 emits a soft, bright light that is easy on the eyes. The 160 high-quality LED lamps make your skin look flatter and more radiant. The light also prevents glare from the eyes by making the lighting look much more natural. It feels very comfortable on the eyes even in high brightness, which is very good for those who record numerous videos more often.
High-quality Build with Longer Lifespan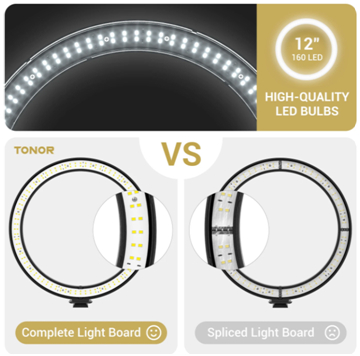 Tonor TRL-20 is made of high-quality materials for a longer lifespan. According to the company, it can take up to 20,000 hours of operation. High-quality LED lamps, surge protection, and electrostatic shielding technology contribute to the product's quality and extend its service life. Anyone who broadcasts a lot and takes part in meetings very often can definitely rely on this TONOR light ring.
Improved Tripod Stand and a Smartphone Holder
You need something to hold the ring of light. You can't just hang it on the wall. And, you should be able to adjust it left and right to make it easy on your eyes and make the video look better. With all of these in mind, the TONOR TRL-20 comes with a tripod mount and a smartphone mount, both of which can be adjusted for your convenience. It's a unique combination in a single product. Most companies sell all of these items separately.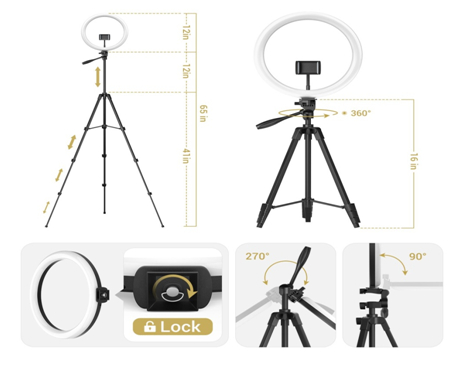 Both the tripod holder and the smartphone holder are perfectly matched to the product and most modern smartphones. So you don't have to worry on adapting it to your smartphone. This ring light can be placed anywhere, at any angle, and with the brightness you need. The stand can be adjusted at the height of 16 to 53 inches and can hold up to 3 kg, all weighing 680 g—a perfect addition for anyone looking to buy a ring light.
A Remote Control
One of our favorite functions is the remote control. The product comes with a remote control that can be used to control the lighting for easy selfies and video recordings. You don't have to go to the ring of light every time you want to adjust the lighting. You can control everything with the supplied remote control. An excellent feature that anyone could find useful.
The remote control works with Bluetooth and can be operated from a distance of 10 to 20 meters. It will be more than enough for any type of use. The remote control is compatible with Android and iOS and can be easily configured to record videos and take selfies. Simply pair it with your device and control lighting and recording.
Tonor TRL-20 – Pro's and Con's
Pro's
Most LEDs are offered in a 12-inch ring light
High-quality tripod stand
Durability
Easy to use (BlueTooth remote control)
USB interface (2-meter long cable)
3 light modes & 10 adjustable brightness levels
Con's
Fewer accessories (no tripod bag or filter)
Cannot use a combination of camera and LED light (almost all light rings do not support this combination)
Pricing and Availability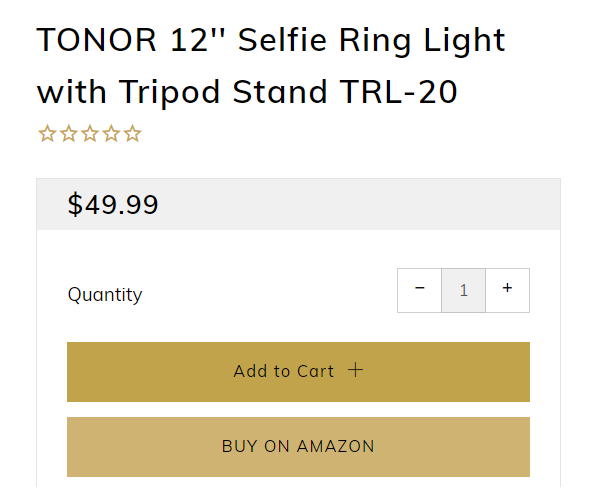 If you are looking to purchase this ring light, you can buy it from the TONOR official website or from Amazon US for $ 49.99.
Conclusion
This selfie ring is the best choice if you are looking for a medium-sized light ring and you also need a tripod. Why? It has most of the LEDs in a 12-inch ring light, support for Bluetooth remote controls, USB interface, 3 color modes, 10 brightness levels, and 20,000 hours of service life. All for less than $ 50.