How to Spy on a Cell Phone: Do you suspect your spouse is cheating on you? Nowadays, it's easier than ever to spy on a spouse's cell phone without them knowing.
There are many ways to spy on a cell phone, but the easiest way is by installing one of these free spy apps onto their device.
Most people think that this technology only exists in movies and TV shows, but there are some really great ways to spy on someone using their mobile devices.
If you want more information about how to spy on a cheating spouse for free with a spy app, read this article.
Spy Apps to Catch Your Cheating Spouse
Since about 67% of men and 45% of women cheat on their spouses, it's obvious that there is a demand for this kind of technology.
Spouses will always seek out new ways to spy on each other since infidelity happens so frequently, and cell phone spying seems to be the most popular method.
The next time you're curious about whether or not your spouse might be cheating on you, just install one of these free apps onto their mobile device.
You no longer have to make excuses to spy on someone else's cell phone without their knowledge – all you have to do now is make sure this app works remotely.
Let us be clear ahead of time that there are no completely functional free Android applications to detect someone cheating.
There are a lot of free spy applications available on the market, and they simply advise on how to catch a cheater and seldom work because:
Many are fraudulent products
Applications are not completely free
Companies want to make money by offering paid tools (even if they don't work)
However, there are some free Android apps that you can look into to spy on someone else's phone.
You're not obligated to sign up for anything or provide any personal information.
With these applications, all you have to do is install them onto the device of interest and access its content remotely using your computer or smartphone (as long as you know their login credentials).
We've tested various free spyware over the years so we'll mention only those considered best by our team: Hoverwatch, mSpy, FlexiSPY and Spyzie.
Each offers unique features that may be more appealing than others based on what you need at this moment – keep reading below.
How to Catch a Cheater with Hoverwatch?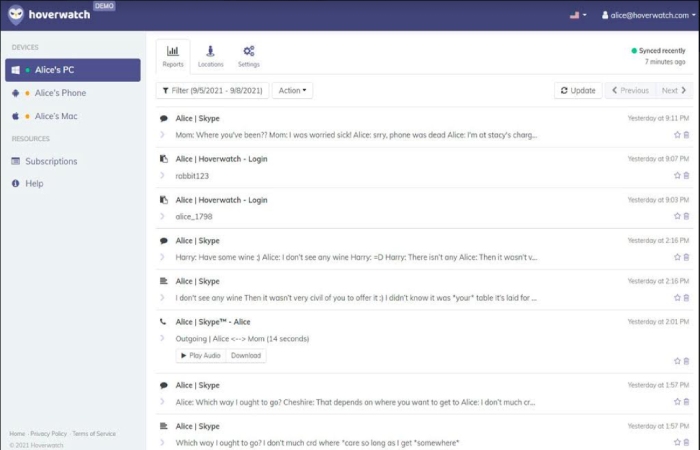 The free spy software Hoverwatch is designed to catch cheating spouses.
The app's services are available to subscribers on Android and Mac, Windows for PC. It is as portable as any other monitoring program.
With its custom dashboard, the application's user can access its features from any web browser they choose.
Hoverwatch also offers a very stable connection between its dashboard and the device. It is considered one of the most reliable programs on that aspect as well as others.
With Hoverwatch you can:
| | |
| --- | --- |
| Remotely control apps installed; | Read emails (Gmail and other email servers) ; |
| Track messages (SMS); | Access media files (photos & videos); |
| Know contacts list; | |
See call history and more.
If this isn't enough for your needs then try another program from our selection or feel free to look around online for spy software reviews before making up your mind about which app will be best suited for catching your cheating partner.
How Hoverwatch Works to Catch a Cheater?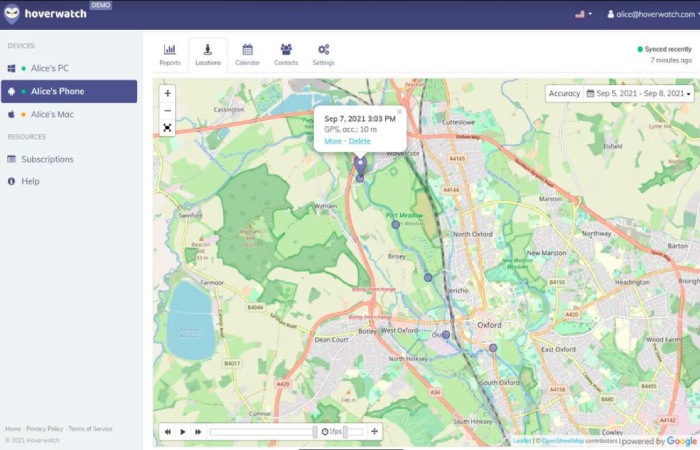 Hoverwatch can track every action performed on any target Android phone.
Many benefits come with spying on a phone, especially when it comes to catching cheating spouses.
First of all, Hoverwatch is very easy to use and can be set up in just a few minutes. It doesn't require any advanced computer knowledge or technical skills because the entire process takes place online.
This way you don't have to worry about having an IT specialist by your side at all times. And also there isn't much room for costly mistakes…
The program works silently in the background so your spouse won't even notice it's installed unless he/she tries to remove its icon from their screen.
How to Install Hoverwatch on Android Devices?
The only thing you need to do is to install the Hoverwatch app on the desired device. After installation, you will be able to display all data remotely.
Of course, it will require access to a mobile device for 10-15 minutes. This is the amount of time it takes to slowly install the application on your phone.
Running a spying app on a mobile or computer is very easy, and Hoverwatch makes the process even easier by not requiring the root user.
However, to properly configure all the necessary features and add-ons, you must first gain access to the device you want to spy on for a couple of minutes.
Step 1: Register with Hoverwatch
Create an account on Hoverwatch.com and pick Android as the target device you wish to track. Select a pricing plan, and then finish the registration process.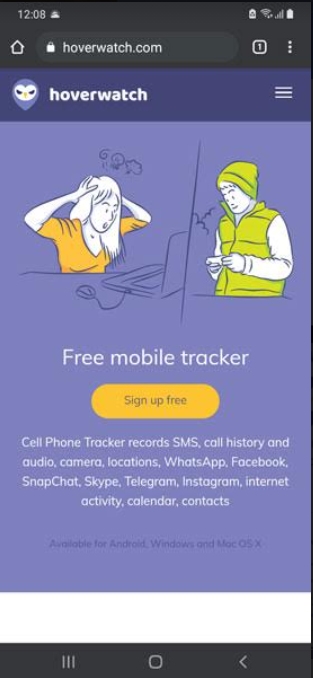 Install the extension on the target device, accepting any required permissions for apps from untrusted sources, either on Android, Windows, or macOS. There is presently no iOS version.
Step 2:  Install Hoverwatch Spy App on Android
Select the target Android phone and install the APK file before launching. Enter your login information. Then follow the prompts of the installation wizard.
Once this is done, it is time to determine the use you are going to give to the tool.
You are going to have 3 alternatives which are: Parental Control, Workers Device Control, or Our device (For this particular case, I have selected the first option).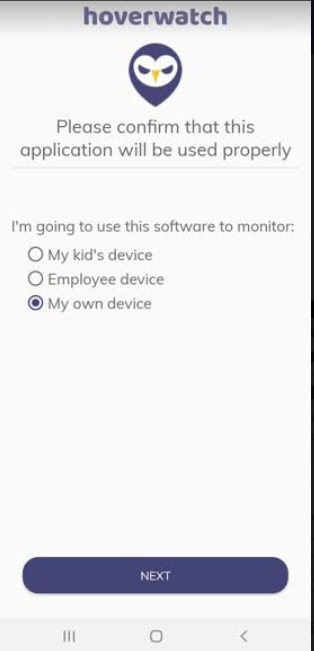 Accept the terms in which it is stated that the user of the device is aware of the monitoring.
Hoverwatch confirm monitoring
Accept the terms and conditions of use, you must also allow all necessary access within the mobile. Finally, if the device is Android, provide the necessary permissions for the "Sync Service" to control all other apps and perform the captures without displaying alerts.
Configure all the information you want to record. This can only be done from the physical device.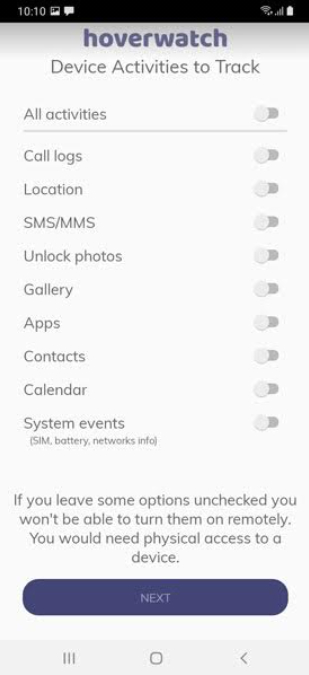 Hoverwatch Device activities
Save the PIN it gives you before proceeding, which is used to access the App itself in the future. You probably won't need to go back, but if you do you can log in through the "Sync Service" add-on which is where the tool is theoretically camouflaged.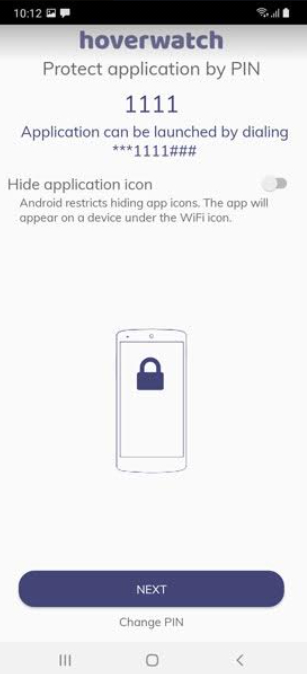 Hoverwatch PIN confirmation
So tip the Hoverwatch Finish installation.
Step 3: Start Monitoring
From your browser, open the Control Panel of Hoverwatch.
The user interface will include all of the app's capabilities, allowing you to observe the phone's activities in real-time.
The control center, where we can get all of our information, is available from the internet.
We may access this page to examine the smart reports for the date, as well as check information about the location at the moment, planned activities, and contacts.
There's also a settings menu where you may alter various parameters.
Hoverwatch is having a wide reach of users around the world, so it has become a very versatile option for various platforms.
It is possible to install it on Android 4 or higher systems, and it also has versions for PC and macOS. Because iPhones run on a closed source system, it is not possible to find a version for iOS.
Compatibility and pricing
You should also know that despite allowing you to create an account for free, it will only last for four days.
After this period, you must choose between one of their offered packages, each of which has a cost based on the number of devices you wish to link.
If you buy a 3-month or 1-year membership, you will receive special pricing on your monthly payment.
| | | | |
| --- | --- | --- | --- |
| Plan | Personal | Family | Business |
| Devices | 1 Device | 5 Devices | 25 Devices |
| 1 Month | $24.95 | $49.95 | $149.95 |
| 3 Month | $59.95 | $99.95 | $299.95 |
| 1 Year | $99.95 | $199.95 | $499.95 |
Personal is the most basic plan, which simply links a single device to your account. It includes all of the monitoring capabilities and is suitable for devices that do not require any additional functions or configuration.
Professional: An intermediate solution that allows you to administer up to 5 devices via a mobile app (Mobile Viewer) from your phone.
For businesses that manage a lot of people, this is a strategy for more corporate customers.
It includes monitoring capabilities in addition to the Mobile Viewer app, which allows you to monitor up to 25 devices at once from your Android mobile phone.
Is it worth the time and money to download a spyware program? (h2)
Overall, Hoverwatch is a useful tool for monitoring. However, with cell phones on the latest versions of software, gaining access to data has become more difficult.
For this reason, the program has had to make minor modifications, the most notable being that information must be presented using images.
It's also crucial to remember that a malicious user will not be able to access your computer unless you allow them to.
Conclusions and Results
To use this software, a local installation on the device is required, so keep your phone out of the hands of strangers. If you just need access for personal or business purposes, you'll have no trouble obtaining it.
As we have seen, there are many different ways to spy on someone's mobile device without their knowledge or consent.
However, before deciding which one of these techniques is right for you, make sure your intentions aren't malicious (like spying on an ex-spouse), as such actions will most likely result in legal problems down the road.
On the other hand, if all you want is peace of mind by knowing what they're up to behind closed doors.
In the end, we cannot classify it as a completely good or bad tool, as this will depend on the handling by the user.